Keeping Your Teeth Healthy
Fluoride helps to rebuild and strengthen the tooth's surface, or enamel. Accordingly, fluoridated water prevents tooth decay by providing frequent and consistent contact with low levels of fluoride. By keeping the tooth strong and solid, fluoride stops cavities from forming and can even rebuild the tooth's surface.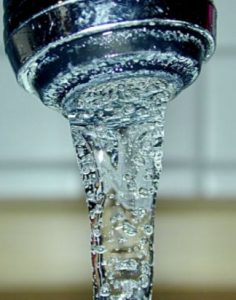 Although fluoride-containing products, such as toothpaste, mouth rinses, and dietary supplements are available and contribute to the prevention and control of tooth decay, community water fluoridation (CWF) has been identified as the most cost-effective method of delivering fluoride to all, reducing tooth decay by 25% in children and adults.(1) Community water fluoridation is the process of adjusting the amount of fluoride found in the water supply to achieve optimal prevention of tooth decay.
The Benefits of Fluoridated Water
Strong Teeth
Fluoride benefits children and adults throughout their lives. For children younger than age 8, fluoride helps strengthen the adult (permanent) teeth that are developing under the gums. For adults, drinking water with fluoride supports tooth enamel, keeping teeth strong and healthy. The health benefits of fluoride include having:
Fewer cavities.
Less severe cavities.
Less need for fillings and removing teeth.
Less pain and suffering because of tooth decay.
Fluoride in the Water Today
In 2012, more than 210 million people, or 75% of the US population, were served by community water systems that contain enough fluoridated water to protect their teeth.(2) However, approximately 100 million Americans still do not have access to water with fluoride. Because it is so beneficial, the United States has a national goal for 80% of Americans to have water with enough fluoride to prevent tooth decay by 2020. Learn more about this goal.
Give Us A Call
To keep your teeth and smile healthy, schedule a visit with Dr. Buran today. From routine cleanings, fluoride treatments and complete smile makeovers, Dr. Buran offers the latest dental techniques to give patients the most up-to-date dental service in Acworth GA.
Call David K. Buran, DMD – (770) 943-0701
Article References:
Griffin SO, Regnier E, Griffin PM, Huntley VN. Effectiveness of fluoride in preventing caries in adults. J Dent Res. 2007;86(5):410–414.
CDC. 2012 Water Fluoridation Statistics website. Available at http://www.cdc.gov/fluoridation/statistics/2012stats.htm