What are dental implants? Implants are a solution for replacing a missing tooth or teeth. They are becoming more popular in the dental industry every year. Though some people are still a bit apprehensive about the idea of getting metal pieces drilled into their gums, implants provide a strong and permanent foundation for tooth replacement dentistry.
You may wonder if dental implants are the right solution for your dental needs. Hopefully, we can give you a brief summary of what's involved to help you make a better decision. We want to help give you the beautiful and healthy smile that you deserve.
Tell Me Again – What Are Dental Implants?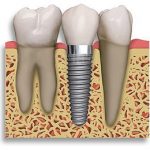 Dental implants are custom made to match your natural teeth. They provide a strong and permanent foundation for a new tooth because the not only replace your tooth but the root as well. Dental implants are secured to bone and are self supported. They do not require the support of surrounding teeth. Dental implants most often times, are used as a solution for a missing tooth or missing teeth. If needed, they can also be used to support dental bridges.
Benefits of Dental Implants
Durable
Low Maintenance
Natural Looking
Permanent and fixed
Safety Of Dental Implants
The idea of a dental implant can be intimidating. However, dental implantation is a very safe procedure. Dental implants have proven to be safe and compatible with the human anatomy. Based on you need, a dental implant can provide the highest level of performance and comfort with minimal risk.
Have More Questions about Dental Implants?
If you have a missing or severely damaged tooth, a dental implant may be the best option for you. Schedule an appointment with Dr. David Buran to answer any questions you may have about a dental implant procedure. Call today – we have been serving the Powder Springs area for 25 years, and now we're located in and serving Acworth GA.
Schedule a Consultation Today – Call (770) 943-0701