The Fair is Coming to Town!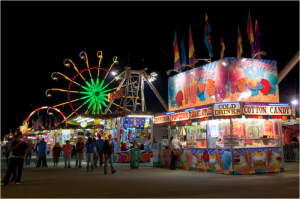 Who doesn't love a great fair? The rides, the fried food, the sweets, the games and the animals! It is always a fun family outing that every American should experience. Lucky for us at David K. Buran Dentistry, there is an amazing fair that is about to start right down the road,  the North Georgia State Fair.Maybe we're a bit biased because it is in our hometown, but we think that this is one of the best you can go to. And here are five great reasons why the North Georgia State Fair is amazing.
• In addition to the petting zoo and pony rides that you'll see at most state fairs, this one has the Tiger Encounter, with a live Bengal tiger, a Sea Lion Splash, where you can see adorable see lions do tricks, and racing pigs!
• There will be amazing concerts by great artists such as Jo Dee Messina, Travis Tritt and Kenny Rogers! For a calendar of concerts, click here
• There will be entertainment from local bands, dancers and artists.
• This year they even have a new attraction, Sandscapes. Throughout the time of the fair, sculptors will transform 50 tons of sand in to work of art. How cool is that?
• It's cheap! Sure, there are some cool things to do around Georgia, but where else can you go and get yourself in for $7 and your kids (under 10) in for free? What a great deal.
We are excited about the fair (can you tell?) and it's on its way! It starts September 18th and runs through the 28th at Jim R. Miller Park in Marietta. So many of us have great memories of going to state fairs when we were growing up, don't we? Hopefully you get a chance to take your family out to make some memories too! Here is the website for more information.