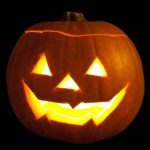 Halloween is a holiday that many kids eagerly anticipate. Naturally, they are thrilled with dressing up in costumes, but an even bigger thrill is the thought of candy. While enjoying candy is not the worst thing a kid can do, here are some tips for keeping teeth healthy at Halloween.
Parents Set the Rules:
As a parent, you can do your part to manage the quantity of sweets your children consume. There's no need to be overly protective about it, but you also need to set reasonable expectations for your child.